Art Design!
welcome to a new and exiting world of innovative architecture art and design, join us and explore the beauty of passionate art, design and style around the world.Buy the best art prints and posters online, use our architectural and graphics design services, and share your art with everyone here at Thesalon.eu. All artists and designers are invited to send and display their work and creativity in arts so it can be enjoyed by all.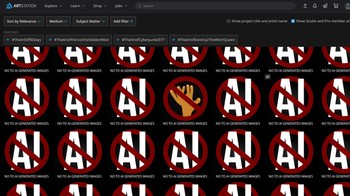 Why Is AI Art?
If we can imagine a painter in the 1500s groaning about having to create an effectively airbrushed portrait of someone royal and prestigious, then it begs the question; is AI art so lifeless because we're such dreadful, unoriginal and demanding commissioners? Meaning that the current soulless state of AI art is the fault of the people behind the algorithms, too. "I think what makes art good isn't that a human physically made it, but rather the idea that made it happen," says Cros.
https://twitter.com/lauraepitcher
Abstract art is a purely Western tradition
Odili Donald Odita challenges the long-held belief that abstract art began with Paul Cézanne, and that it is a purely Western tradition in which Pablo Picasso's appropriation of African art played an important role. This is the tradition with which most abstract artists align themselves. In this narrative of art history, Europe is at the center and the rest of the world is on the margins. Starting in the 1940s, American artists and critics helped shift the center to New York. And critics such as Clement Greenberg, Donald Judd, and Rosalind Krauss helped to strengthen this perception.Thankfully, not everyone agrees with this.
Odili Donald Odita, "Time and Space"
(all images © Odili Donald Odita, courtesy the artist and Jack Shainman Gallery, New York)

The world of interior design
Numerous interior designers have remained silent in the face of calls for a more fair representation and diverse industry.Kgomotso Malope, founder and creative director of MoTSO DeSIGNED Interiors, has addressed the need for African designers who represent the modern African aesthetic.Established in 2016, the interior design company specialises in African-inspired interior design.MoTSO DeSIGNED Interiors provides interior design services in residencies, corporations and the hospitality industry.
Street Fighter 6 coming in 2023...

On March 6 Donetsk Academic Regional Drama Theater in Mariupol, where more than a 1,000 people hid. Built in 1956-1960, the theatre is a monument of architecture, history, and monumental art - and it is now completely destroyed. This is one of a list of destroyed, iconic public buildings and structures. In addition, many residential buildings, which are also historical and architectural monuments in Ukraine, have been destroyed or significantly damaged. The scale of the losses is currently difficult to calculate and estimate. Most of the cities where they took place are currently under constant fire. Some of them are under temporary blockade.